Economic Indicator Charts with Baselines
The BaR Analysis Grid

©

uses economic indicators that correlate strongly with the ups and downs of a business cycle and show a consistent pattern of decline prior to recessions. Indicators can be divided into two groups: static and dynamic. Static indicators, like the Chicago Fed National Activity Index and the St. Louis Fed Financial Stress Index, have a consistent recession signal range, resulting in baselines that are are the same from business cycle to business cycle. Other indicators, such as retail sales and building permits, are dynamic, meaning that the indicator values and baseline estimate change with each business cycle.

The recession baselines for dynamic economic indicators are based on the values seen when previous recessions have started. During a business cycle, after an indicator hits a peak value it will decline until a recession starts. The baseline is largely based on the percentage that an indicator decreased from peak to recession start in previous business cycles.

The charts shown below are snapshots taken in June 2020. These charts show how well the baselines estimated where the indicators would be when the recession started even though this recession, due to mandated shutdowns, was very different from previous ones.
Building Permits
Dynamic baseline; leading indicator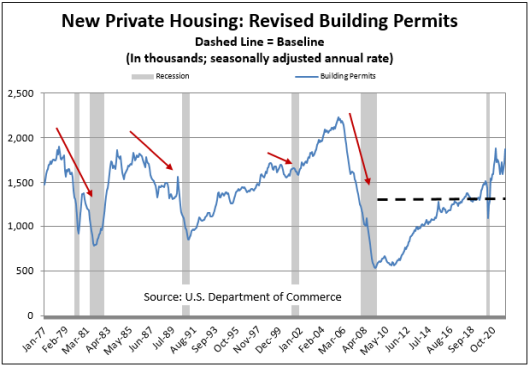 Chicago Fed National Activity Index
Static baseline
Consumer Sentiment
Dynamic baseline; leading indicator
Real Nonfinancial Corporate Profits
Dynamic baseline
Credit Managers' Index (National Association of Credit Managers)
Static baseline
Existing Home Sales (National Association of Realtors)
Dynamic baseline
Industrial Production and Capacity Utilization
Dynamic baseline

ISM Manufacturing

Static baseline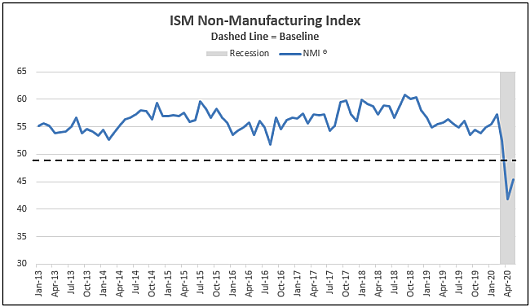 ISM Nonmanufacturing
Static baseline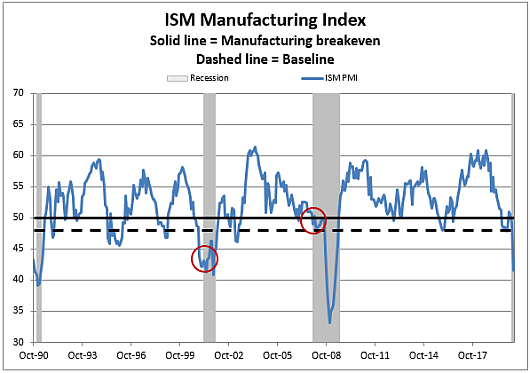 Job Openings and Hires
Dynamic baseline; job openings is a leading indicator
Real Retail Sales Per Capita
Dynamic baseline
Small Business Optimism (National Federation of Independent Business)
Dynamic baseline; leading indicator
St. Louis Fed Financial Stress Index, Monthly Average
Static baseline; leading indicator
Temporary Employment

Dynamic baseline; leading indicator
Weekly Unemployment Claims, Monthly Average
Dynamic baseline; leading indicator
Vehicle Sales
Dynamic baseline

Yield Curve Spread, Monthly Average (10-year Treasury notes minus 3-month Treasury bills)
Note: The yield cure spread is pushed forward 12 months when plotted on the BaR Analysis Grid. Research by the Cleveland Fed has determined that the yield curve forecasts economic growth approximately one year in advance. Go here to see the Cleveland Fed's yield curve spread forecast. However, the 12 months is an average and the actual time forecast differs for each business cycle.